Posted by STEVE M on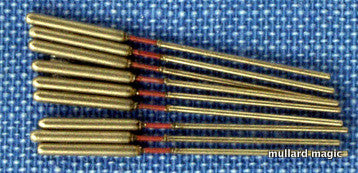 Today, I want to look at LEAD IN WIRES.   Look in any PINCH & FOOT valve and you can see the LEAD IN WIRES sandwiched on all sides by the pinch glass.  In order to maintain that seal, the wire has to have a similar coefficient of expansion as the glass surroundings - a tall order indeed! In actuality, the LEAD IN WIRES are of a composite construction with the top section being of sufficient diameter to make the electrode cage support rigid and similarly with the bottom section of copper wire that forms the valve pin connection.  The middle...
Posted by STEVE M on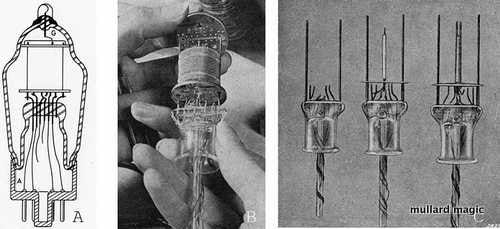 Let's look at the PINCH today.  The PINCH is something borrowed from incandescent lamp manufacture and is where lead-in wires pass through a valve envelope in a cleverly wedge shaped piece of glass which not only provides a perfect impermeable seal but also provides a very nice mount upon which an ELECTRODE CAGE can sit. As can be seen from the photo sequence below,  as we work from A to C, in A you can see the sectioned PINCH at the base of the envelope showing clearly the transit of the wires through the impermeable glass seal.    In B we...