Posted by STEVE MYCIUNKA on
You can read more about this Noval based twin triode on one of my valve product pages but here, today we have an excerpt from a Mullard 1954 press release extolling the vital statistics of this versatile and today revered device:
Posted by STEVE M on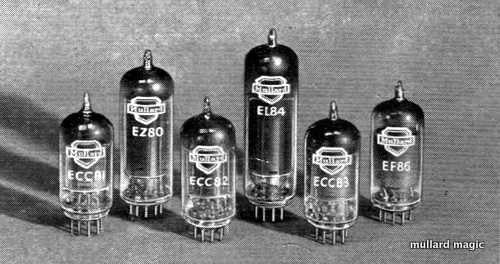 In late 1952, a new range of Mullard B9A Noval based valves having 6.3V heaters were introduced aimed at use in audio amplifiers. PRE-AMPLIFIER - type EF86 now replaced the EF37A or EF40 having similar charcteristics to the EF40 with a gain of up to 140 being achievable.  The heater of the EF86 is rated at 6.3V @ 200mA. DOUBLE-TRIODES - three new devices were made available  - the ECC81 being a medium impedance valve, the ECC82 a low impedance and the ECC83 a high impedance.  All designs have independant cathodes for each section, centre tapped and capable of operation...