Posted by STEVE M on
Its a funny old World you know.  Back in 2010, Cadbury was forced to removed the famous phrase "glass and a half" from its Dairy Milk bars as a well loved and recognised phrase that had been in use since 1930! The phrase was originally used to explain the amount of milk in every half-pound chocolate bar. It has had to be amended to now read: "The equivalent of 426ml of fresh liquid milk in every 227g of milk chocolate".  Trading Standards said it had no objections to the old phrase, and that Cadbury could continue using it. But the...
Posted by STEVE M on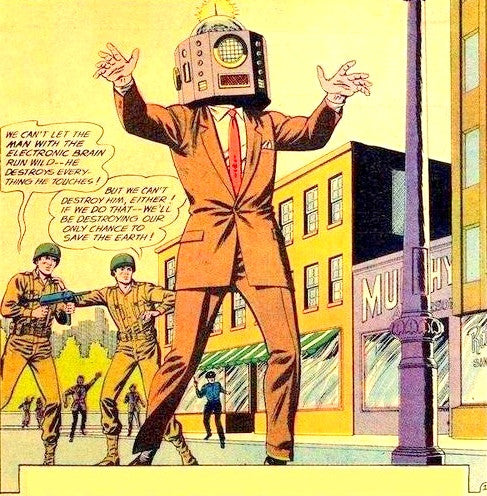 I did titter when I saw the above illustration from a 1950s comic book, what a treat to see the Man With an Electronic Brain and let me tell you, I have met and known a few numpties who would benefit from some electronic augmentation too. But wait a minute, like me, are you thinking that the electronic brain looks rather similar?  Could it be... yes, I think it is, what do you think........? Well beat me on the bottom with a copy of Radio Bygones magazine, that electronic brain bears more than a passing resemblance to the Defiant M900...