Posted by STEVE M on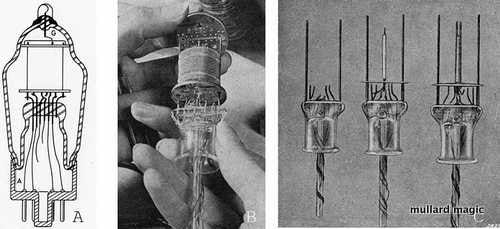 Let's look at the PINCH today.  The PINCH is something borrowed from incandescent lamp manufacture and is where lead-in wires pass through a valve envelope in a cleverly wedge shaped piece of glass which not only provides a perfect impermeable seal but also provides a very nice mount upon which an ELECTRODE CAGE can sit. As can be seen from the photo sequence below,  as we work from A to C, in A you can see the sectioned PINCH at the base of the envelope showing clearly the transit of the wires through the impermeable glass seal.    In B we...
Posted by STEVE M on
I thought I would write a series of blog articles on what is inside a valve.  Famously, the head of Mullard UK, the ex-Philips SS Eriks once stated that the only British thing inside a Mullard valve was the vacuum and after I recently waffled on to some poor chap about electrode cage construction, pinches and getter flashing, they were bemused so I thought that I had better expand on the great Dutch master's scathing comment, so, without further ado, let's talk about......... what's in a valve.................................. The picture below shows a sectioned Mullard EL37 output pentode, as you can see, this...